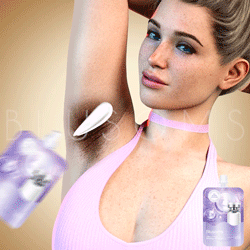 See visible skin lightening results in as little as 4 weeks, with optimal results in 8 weeks!



"From Shadow to Radiance in just 4 weeks!✨"
"For years, I shied away from tank tops and bathing suits, always worried about my dark armpits. I was skeptical, but let me tell you, Blusoms™ LightUp Body-Brightening Cream is a total game-changer! I religiously applied the cream daily, and to my delight, I started noticing a difference after just a week! My underarms seemed brighter and smoother. But the real 'wow' moment came at the end of 4 weeks. I couldn't believe my eyes - my armpits were visibly lighter and more even-toned! I finally wore a sleeveless top to a beach outing last week without a second thought, and it felt fantastic. Thanks to BLUSOMS!💖xx"

⭐️⭐️⭐️⭐️⭐️
Emily Jones
New York, United States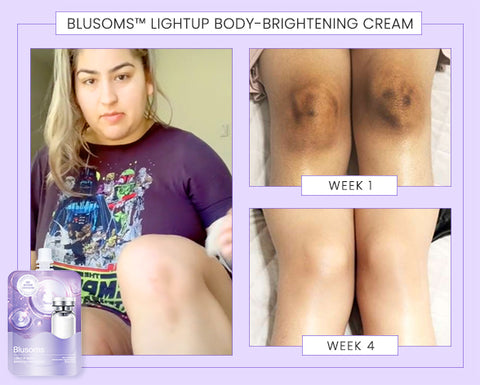 No More Kneeling in the Shadows in just 4 weeks! 🥰
"Hey lovelies! Like many of us, I had darker skin on my knees, which made me self-conscious about wearing my favorite skirts and dresses. It felt rich yet non-greasy, and what impressed me more was its ingredient list - full of organic and natural brightening agents. I committed to using it daily and began noticing changes by the end of week 4!  My knees were noticeably lighter, and the skin felt supple and smooth! The transformation has been incredible. I no longer shy away from flaunting my legs. In fact, I just bought this cute mini dress👗to celebrate my newfound confidence!"

⭐️⭐️⭐️⭐️⭐️
Jennifer Smith
Ealing, United Kingdom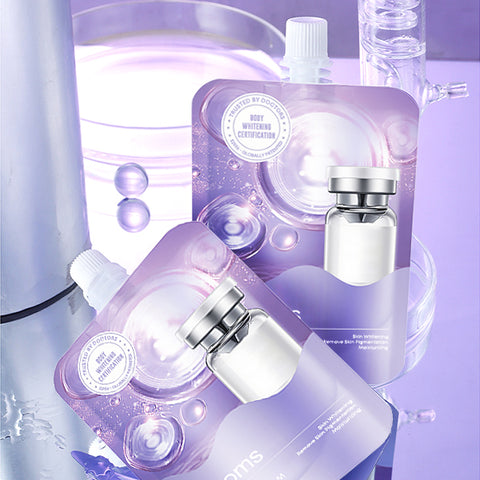 Illuminate Your Skin with Blusoms™ LightUp Body-Brightening Cream!
Greetings, beautiful souls! We know how vital it is for every woman to feel confident and radiant in her skin. That's why we are thrilled to introduce you to an exceptional skincare product that will elevate your beauty routine - Blusoms™ LightUp Body-Brightening Cream.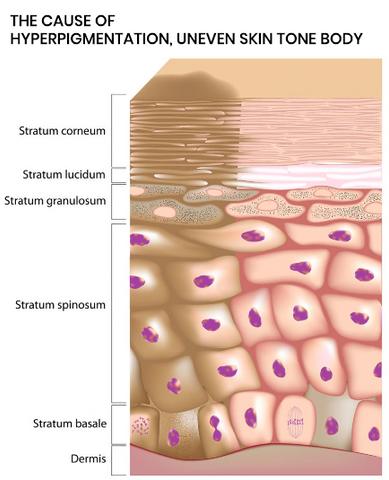 This occurs when the skin produces more melanin, which is the pigment responsible for your skin's colour. Hyperpigmentation can affect your entire body or appear as darkened patches or spots that make the skin look uneven. Blusoms™ LightUp is here to change that narrative. This cream is specially formulated to target these issues, revealing a brighter, smoother, and more youthful complexion.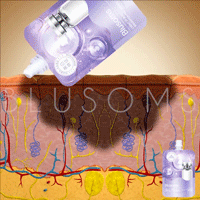 Packed with potent natural and organic ingredients, our Body-Brightening Cream works to reduce hyperpigmentation and boost skin brightness.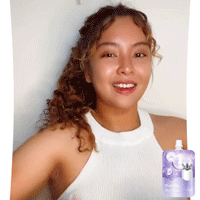 Blusoms™ LightUp Body-Brightening Cream is a clinically tested and dermatologist-approved solution for depigmentation. Endorsed by renowned dermatologist Dr. Elizabeth Thompson, this cream has proven its efficacy in combating pigmentation issues. Harnessing the power of natural, active ingredients, it works to lighten and brighten your skin, revealing a radiant, even-toned complexion.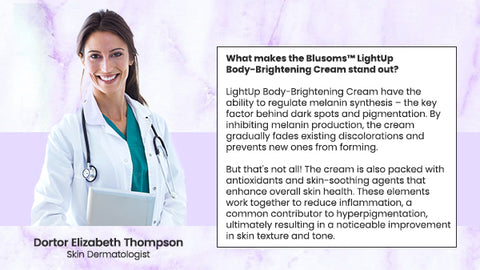 The result? Skin that not only looks lighter and more even, but also feels deeply nourished and revitalized.
Consist of 2 

Key Ingredients For Anti-Cellulite:

1. KOJIC ACID
2. NIACINAMIDE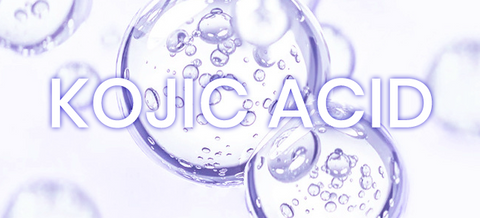 Inhibits Melanin Production: As mentioned earlier, kojic acid works by inhibiting the production of melanin. 

Exfoliates the Skin: Kojic acid also acts as a mild exfoliant, helping to remove the outer layer of dead skin cells. 

Safe for Sensitive Areas: Kojic acid is generally safe to use even on sensitive areas like the armpits.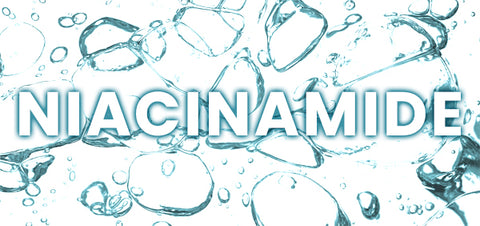 Treats Hyperpigmentation: Hyperpigmentation (darker patches of skin) can occur in the skin due to factors like shaving, hormonal changes, or use of certain deodorants. Niacinamide can help to fade these darkened areas over time by decreasing the production of melanin.



Anti-Inflammatory Properties: Niacinamide has anti-inflammatory properties, making it effective for reducing redness and blotchiness. This can contribute to a more even skin tone.

Improve Skin Elasticity: Niacinamide can stimulate the production of collagen and keratin, proteins that are vital for maintaining skin's strength and elasticity. This can help firm the skin, reducing the appearance of fine lines and wrinkles.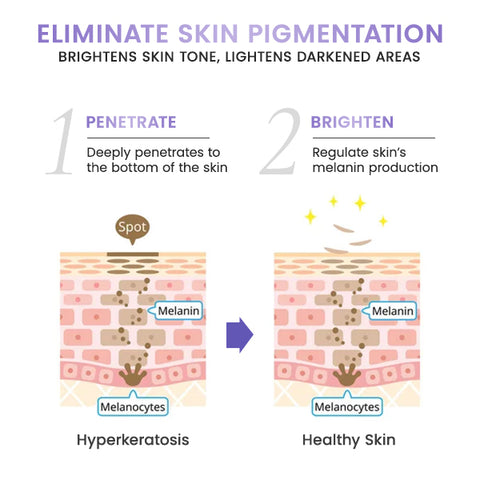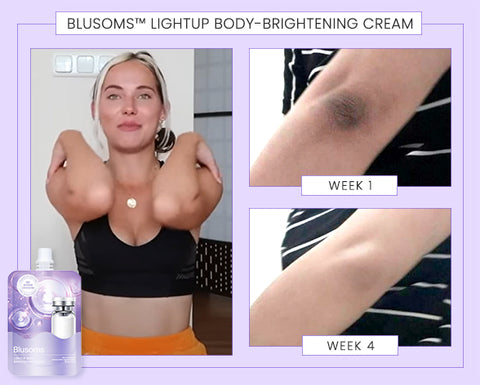 So happy I found and tried BLUSOMS LightUp!  💛
"Dark elbows - something I struggled with until I discovered Blusoms™ LightUp Body-Brightening Cream. Its natural, nourishing ingredients not only pampered my skin but started lighting up my elbows in just a week! By the end of the month, what a transformation! My elbows are now noticeably lighter and my skin feels so much smoother. Now, I'm rocking my sleeveless outfits with newfound confidence. I love my skin now and very confident without hesitate on outfit!" 


⭐️⭐️⭐️⭐️⭐️
Jennifer Smith
Ealing, United Kingdom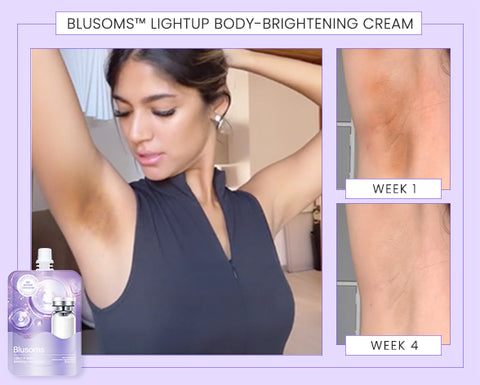 Best Whitening Product I've Tried Ever!  🥰
"Within a span of 4 weeks, I observed a significant lightening of my underarm area. The cream boasts a non-greasy formula, absorbs readily, and leaves the skin feeling hydrated and smooth. As a result of this remarkable transformation, I am now more confident wearing sleeveless attire. If you, too, are dealing with dark underarms, this product could be an essential addition to your skincare regimen. Its results are notably impressive!"

⭐️⭐️⭐️⭐️⭐️
Jennifer Smith
Ealing, United Kingdom