EMBROIDERY IS A PRETTY AND DELICATE ART
WITH THIS YOU CAN TRANSFORM ANY TEXTILE ITEM WITH PATTERNS, WRITING, FLOWERS, CURTAIN, PILLOWCASES,CLOTHING, DECORATIVE PAINTINGS, INSOLES AND OTHER COMMONLY USED HOUSEHOLD ITEMS.

FEATURES
⭐Precision Embroidery: Each needle size accommodates a different number of embroidery floss strands. With 3 interchangeable needle sizes, which determine the size of your thread loops, you can make delicate artworks with precision, such as backstitch, satin stitch, loop, and more.
⭐Easy To Operate: All you need is to push the pen through the fabric repeatedly as you move into the strokes that you want to create. This enables you to form a series of small thread loops to create an artwork with 3D texture which gives it a rug-like appearance.
⭐Quality & Comfort: Works great for experts and beginners alike. It's made with high-quality ABS, you can enjoy it for a long time. Compared to ordinary punch needles, this Magic Embroidery Pen is more durable and has a more stable grip. Ergonomically designed to promote comfort with every use.
How to use the embroidered punch needle?
1. Insert threader into needle shaft until the folded end of the wire appears at the other end. Place thread inside the wire loop.
2. Put threader back through the needle shaft emerges from the needle tip. Remove thread from the threader.
3. Insert threader through the eye from the back (rounded) side to the front (beveled) side. Place thread inside the wire loop.
4. Pull the needle eye. Remove thread from the threader, leaving enough thread.
5. Repeat the process. A beautiful piece of artwork can be done.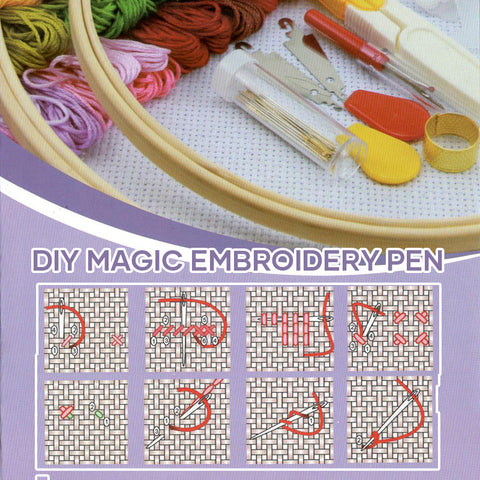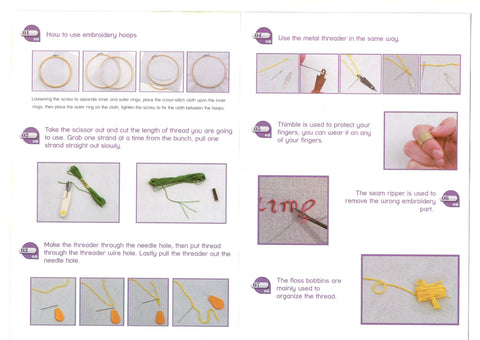 ⭐More Fancy Embroidery Awaits Your Discovery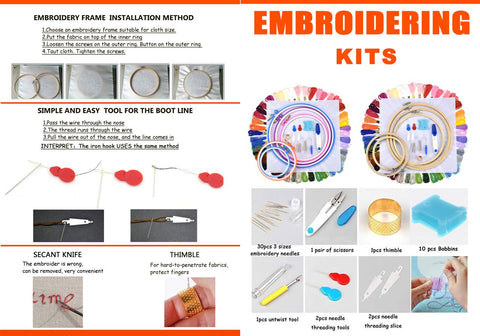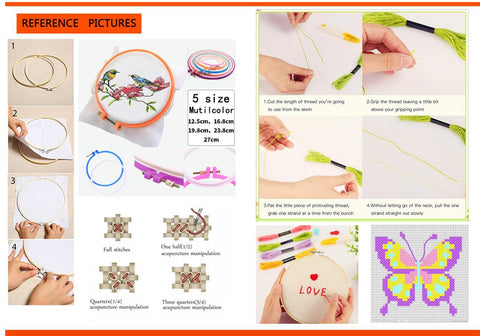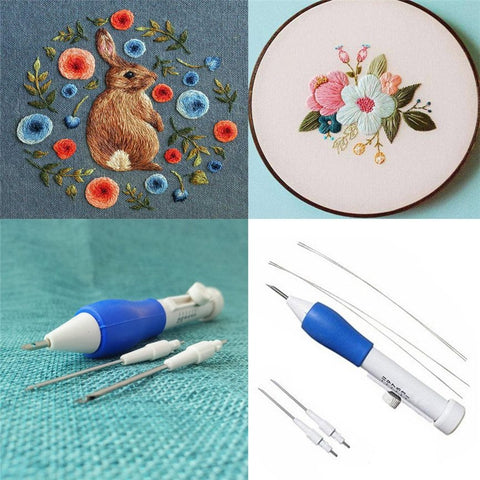 Make your next embroidery piece so much simpler with our Magic Embroidery Pen! Simply thread the punch needle and by using a punching action you can create intricate designs in minutes!
You can create standard designs as well as unique 3D designs with the Magic Embroidery Pen! You can also embroider on any type of fabric, clothing, tablecloths, napkins, towels, quilts... the possibilities are endless! Have fun doing punching techniques and create your own unique embroidery designs for the holiday season!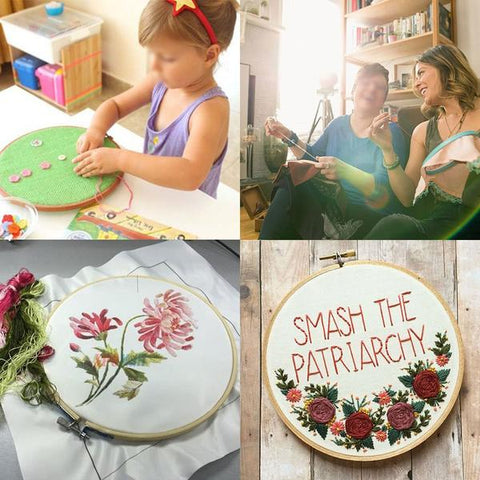 SPECIFICATIONS
Material: ABS Plastic, Silica Gel
Color: As shown in the picture.
Handle Length: Approx. 4.7"/ 12cm
Threader Length: Approx. 7.2"/ 18.3cm
PACKAGE INCLUDED
1 set × Magic Embroidery Pen, 3 Needles (small, medium, large)
or 1 set × Embroidery Full Set (136pcs)
100 color threads

1x embroidery Pen

3x Needles

10 x Floss Bobbins

9x embroidery needle

4x Needle Threader

1x scissors

2x butterfly embroidered patterns

1 x Rose-shaped Embroidered Patterns

1 x Measuring Tape

1x thimble

1x Untwist Tool

2x cross stitch needle-threading tools